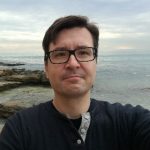 Tommi Kinnunen, Senior Lecturer
Expert in Perioperative Nursing and Simulation Pedagogy
Savonia University of Applied Sciences, Unit of Health Care
Education:
• Bachelor Degree in Nursing, Savonia University of Applied Sciences
• Master's Degree Programme in Social and Health Care Development and Management, Savonia University of Applied Sciences
• School of Professional Teacher Education, JAMK University of Applied Sciences
Work experience:
• About 9 years' working experience in operating room as a surgical nurse in Kuopio University Hospital.
• 5 years´ Educator Nurse in Savonia University of Applied Sciences
• Since 2016 Senior Lecturer in Savonia UAS
My expertise for the project:
My main contribution to the FutureEdu –project is in the field of perioperative nursing. I teach perioperative nursing in professional studies and optional professional studies. I also work as an internship instructor in different perioperative nursing environments so I have good links to the working life. This expertise is very valuable when developing new learning methods.
I also teach clinical examination of patient. In Savonia UAS we have a great Simulation Center where students can practice real situations and actions that they will encounter in real life. In the Simulation Center, students can also train different kind of hand skills. I am also one of the simulation pedagogy educator in Savonia UAS, and I use this method frequently in my courses.
In healthcare education, extended reality (XR) and virtual reality (VR) are rarely used, especially in nursing education. Learning environments using these new technologies complement traditional methods. They offers authentic and patient safety environments, where participants receive feedbacks about their performance, indicating what went good and what can be improved. Studies also shows that by observing another exercising one can also learn, so it is a versatile method of learning.
Traditional nursing education is changing, that´s for sure. Lessons are going to be diversified from the traditional classroom lessons to web-based clinical instructions and virtual based skill stations. This will change our teaching strategy and affects the curriculum of nursing education bringing also new opportunities for the in-service training.